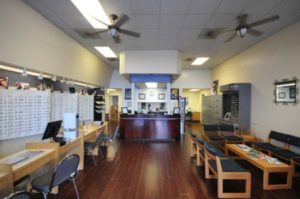 Optometrist in Houston, TX
Let a Houston, TX, optometrist help you preserve your sight. Vision Source offers eye care products that are trusted by people throughout the country. We offer a great inventory of eye wear, contact lenses, implantable lenses, and treatment for conditions like cataracts. We believe that your vision should be protected and maintained, and we'll do everything we can to help you see clearly.
We pay close attention to detail as we give you personalized care. You'll appreciate our competitive rates. If you are suffering from dry eye syndrome or have concerns about cataracts, we're here to help. We aim to provide our clients with:
Friendly and knowledgeable professionals
Up-to-date eye care practices and procedures
A convenient appointment schedule
Our business hours are Monday, Tuesday, Thursday, Friday: 9 am – 1 pm and 2 pm – 6 pm. Saturday: 9 am – 2 pm.
As a Houston, TX, optometrist, our top concern is your satisfaction. We want you to count on the professionals at Vision Source to help you see better, so contact us today.